After relocating from Hawaii to Arkansas a few years ago, P.J. and Kris Flaherty wanted to bring a little bit of their beloved tropical island with them.  So when they bought a house on Chenal Circle in Little Rock, they immediately went to work transforming their yard into a "Blue Hawaii."  When the Flahertys purchased the home, built by Rick Ferguson in 2003, the backyard was completely wooded up to the back patio.  Over time, it was cleared and sodded, then surrounded by large, mulched azalea beds mixed in between a variety of oak trees and dogwoods.  The focal point of the yard eventually became a large pond and waterfall feature with an adjacent arbor. "This gave a nice natural look to the yard, but it wasn't very functional and frequently became muddy." To transform the yard into a more user friendly retreat with a pool that the whole family could enjoy, the couple considered a variety of options.  But with the help of David Chappell of Morris-Chappell Landscaping in Little Rock and the father-son pool-building team of Clyde and Clay Brooks of Brooks Pools in Little Rock, the plan finally came together. "We basically drew an outline freehand in the air," says P.J., "and based on this incredibly accurate finger-painting, David drew up a landscaping blueprint."

Five months later, everything began shaping up. Don Underwood of Stonecrafters of Arkansas poured a massive stamped concrete deck to blend with the natural stone around the pond, while Chappell and his crew added lots of color with landscaping plants like hibiscus and hydrangea. "Of course, we also needed a fireplace," says P.J., who had a stainless-steel insert from Ken Rash's in Little Rock installed and surrounded with natural stone by the crew from Morris-Chappell.

Of course, the Hawaiian touches were not forgotten. They added a dark blue finish to the inner shell of the pool, as is popular in the Flahertys' former island home, and tiki torches with direct natural gas lines run through the concrete deck. "We wanted something durable, like what we might have seen at a nice Hawaiian beach or boat club," says P.J.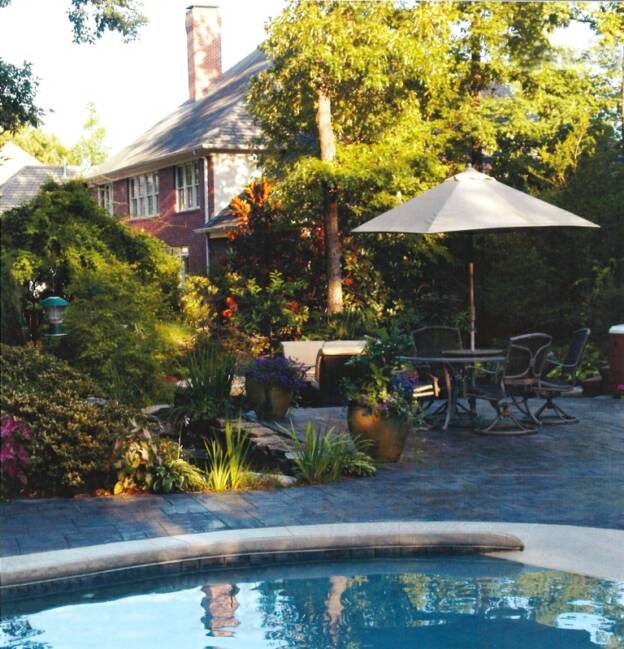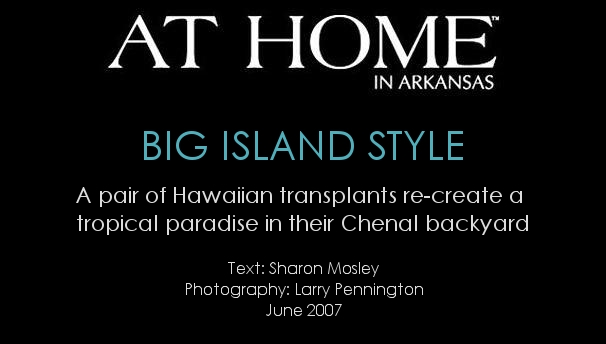 Brooks Pool Co., Inc. | © 2014